Alison Critchlow
Netherby Hall Online Exhibition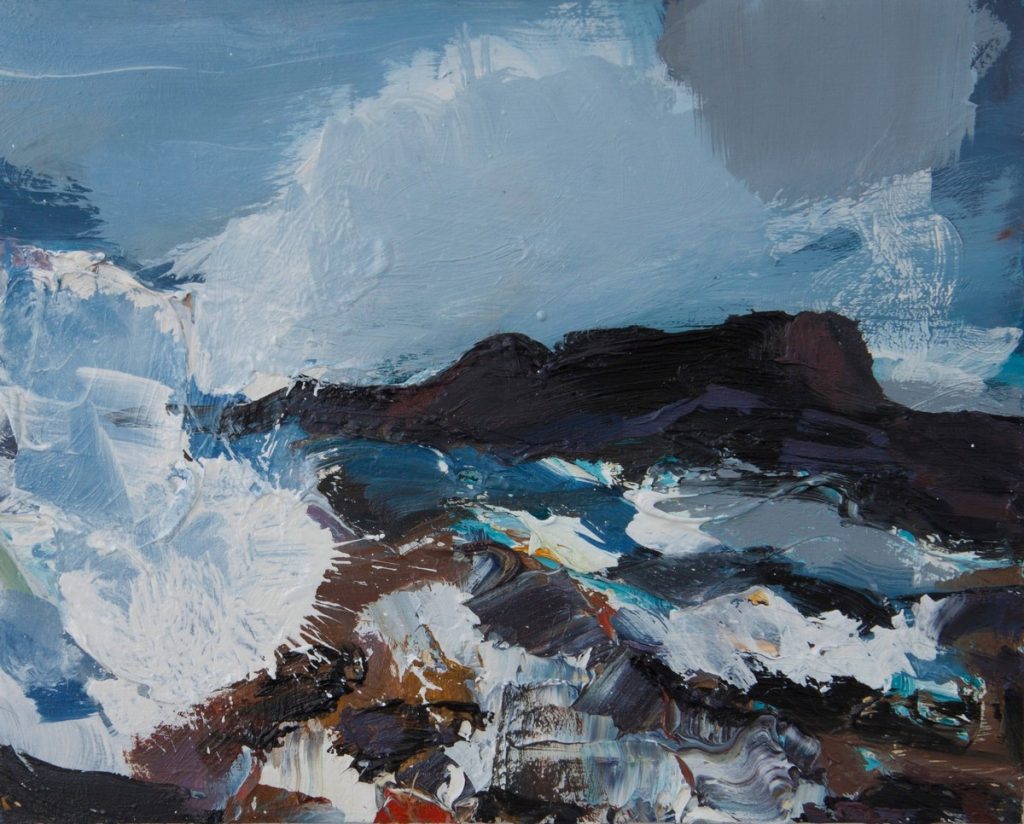 Crashing Waves, Outer Hebrides by Alison Critchlow
Oil on Board 30 x24 cm

The paintings in this exhibition are all inspired by moving water. Whether charting waves crashing on wild Hebridean shores or the stillness of a summer evening by the Solway Firth they aim to capture the spirit of a moment and hold a snatch of something fundamental and intangible.
I have gathered the paintings together in my studio to write these words, conscious that the tactile aspects of the paintwork might not be easy to respond to via a screen. I listen to them for a while. They speak a watery language - some are loud and boisterous, others are softly spoken, they whisper in tidal accents, lilts and runnels. The water trickles in, delicately laps, skips and hops. In other paintings sea spray flies, catches the light, smudges and drips of paint speak of high seas and storm surges. Waves tumble and roar. The full force of the Atlantic piles in.
On another wall the soft grey of rain passing over the Solway Firth strikes a different chord. Over on the right there is a gentle evening light fading over the estuary. Meanwhile Lodore Falls tumbles on through the centuries, a continuous moving form.
These paintings invite you to step in close to the water and listen. Some of them are large enough to feel immersive – ushering you into their world, asking you to step in and explore. One or two are unframed allowing them to seep outwards beyond the edges of the canvas.
The sea is often my focus as part of a wider enquiry into the passage of time and the unseen rhythms of place. This is something I have been exploring in my work for several years in different ways. A few years ago, I spent a month painting the waves coming in around a particular group of rocks on the Isle of Iona and more recently spent two years painting in Dove Cottage garden, Wordsworth's home at Grasmere. I began drawing from his manuscripts looking at the rhythm of his words on the page as part of an enquiry into creative process and place.
I am very interested in how our senses work in relation to memory and how particular places or experiences remain in our 'mind's eye'. The pace and rhythm of marks and the way the abstract language of paint can be interpreted almost like notation is an ongoing fascination. It feels as though I have a personal language of paint which is continually evolving.
Art by Alison Critchlow
Art below is priced on collection from Netherby Hall. Please get in contact for a shipping quote.
This exhibition was curated by Timothy and Rafaele Appleby