Rachel Gibson
Netherby Hall Online Exhibition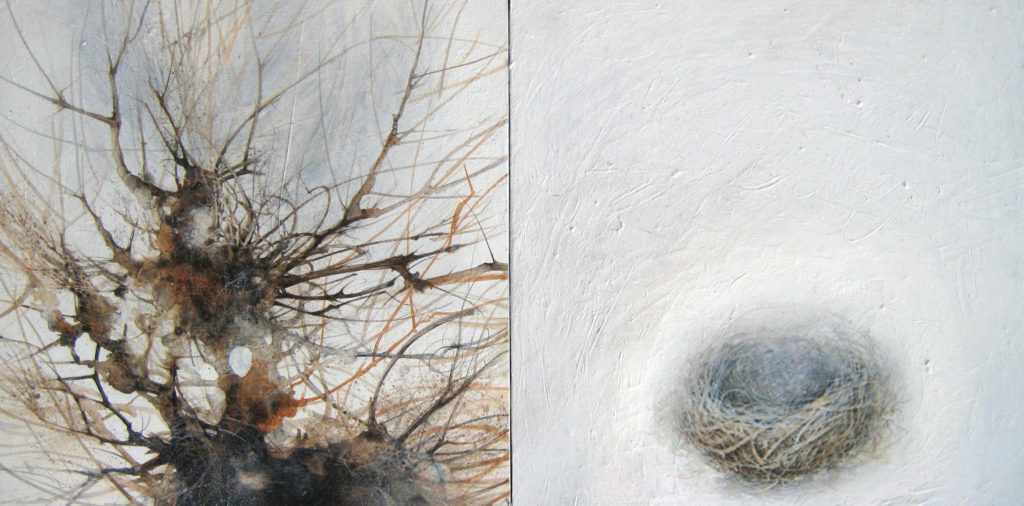 Winter tree diptych: Small finds - Rachel Gibson
Acrylic & gesso on board 60 x 30 x 5cm

It is the landscape of these North Pennine Fells with its massive, open landscape, its flora and fauna and the fading traces of human intervention that I find most compelling. I walk often to follow the traces of the different seasons, looking for small finds and mentally recording natural events that act as echoes from the past or signposts to the future. These are pivotal moments in time. Writing and drawing helps fix my thoughts, it is like trying to 'catch the shadow' of a barely tangible idea, something that is real but illusive and fragile.
My work seeks to reflect the transience of my surroundings, suggesting shelter and growth as well as vulnerability and loss. There is an intuitive involvement with memory and sense of place. Using my own experience of the natural world, I explore in the notion of landscape as an environment of immense history but also uncertain stability and try to experience it 'in transit', as a traveller simply passing through.
Selecting work for an exhibition which links visual art and music has been interesting. Whilst this project has allowed me to think back through this very unusual year and the work I have made, it has made me particularly aware of communication of thoughts, energies and ideas, something that musicians playing together are involved with constantly.
Art by Rachel Gibson
Art below is priced on collection from Netherby Hall. Please get in contact for a shipping quote.
This exhibition was curated by Timothy and Rafaele Appleby