Amazing things to do in and around Cumbria
If you are thinking of visiting Cumbria for the day, weekend or week. You are in luck because there is an abundance of activities to do in Cumbria.

Netherby Hall has luxury accommodation for those looking to stay in Cumbria for a few days or weeks. We are located in the north of Cumbria, near Gretna Green and Carlisle so we have access to a hub of popular places.
Whether you are with a group, your family, your partner or yourself, view our recommended activities in Cumbria below which are sure to satisfy your needs when visiting. Whilst some of the mentioned activities are not directly in Cumbria, they are only a short distance away and we thought that you wouldn't want to miss out on them.
Cumbria and its surrounding area is home to a vast array of activities tailored to children and excitement. If you are after a big day out or a simple quick trip, the activities below will be sure to satisfy you and your children.
Withaugh Park
Withaugh Park is a child's paradise. It has indoor climbing, fencing, gorge walking, high ropes, inflatables, kayaking, outdoor climbing, mountain biking, night hikes, canoeing, orienteering, pedal karting, slacklining, swimming, water zorbing, zip wires and more. They also run family days and holidays, holiday clubs and host birthday parties and celebrations. There is plenty of activities for your children to enjoy at Withaugh Park.
Address: Newcastleton, TD9 OTY
Phone: 01387 375394

Blackdyke Farm
Blackdyke Farm is a great place to bring your kids as it often hosts horse shows and competitions and offers children the opportunity to ride horses. Also, they have a very nice swimming pool which is a favourite amongst children.
Address: Blackford, CA6 4EY
Phone: 01228 674 633
Kielder Bike Hire
If you are looking to explore the trail network in Kielder on a bike, Kielder Bike Hire is the best place to go. They have great equipment to hire and buy so that you have the best time possible when exploring the area. The Bike Place in Kielder hires out bikes on a 2 hour, 4 hour or daily rate.
They will advise on arrival what type of bikes are needed, and offer adult, children and electric bikes.
Standard Bike £20 2 hours, £25 4 hours, £35 day.
Children's Bike £15 2 hours, £20 4 hours, £30 day.
Electric £45 (minimum of 4 hours), £60 day.
7 days a week. 9.30am – 4.30pm
Trails or around Kielder (26 miles / 2,200ft climb)
Address: Kielder, NE48 1ER
Phone: 01434 250 457
Walby Farm Park
If you are wanting a fun day out with the family, then Walby Farm Park is ideal for you. The kids can enjoy riding on electric mini-quads, mini–Land Rover rides, indoor and outdoor activities, football and digging activities.
Address: Walby, CA6 4QL
Phone: 01228 573 056
Energi Trampoline Park
Climb, jump, twist, flip, dunk and dodge to your heart's content. Your children will absolutely love this place as there are so many activities to do. While your kids are having the time of their life, you can relax in their amazing café to refuel.
Address: Carlisle, CA2 5RS
Phone: 01228 210 215
Eden Rock

As one of the biggest and best indoor bouldering walls in the UK, Eden Rock is a great place to take your children or yourself if you are after an afternoon of fun. There are kids' classes designed to provide fun, education and activities when climbing indoors.
Address: Carlisle, CA1 3NQ
Phone: 01228 522 127
Laser Quest Carlisle
For an adrenaline-fuelled fun time for your kids, the Laser Quest in Carlisle is a great option for everyone aged 7+. This is not just a standard laser quest; they have swirling fog and music to create a battlefield atmosphere so that the experience is more immersive.
Address: Carlisle, CA3 8AN
Phone: 01228 511 155
7 Stanes Mountain Biking
7 Stanes have world-class mountain biking centres which offer fantastic trials for keen mountain bikers. You do not have to be experienced at mountain biking to take part either which is a great incentive to head down.
Address: Newcastleton TD9 0QD
Phone: 03000 676 900
Escape room Carlisle
Are you visiting Carlisle with a group of friends or family? Total Enigma has 3 different types of escape rooms aimed at giving people a fun and educational time. You can find an enchanted book of spells hidden by an evil sorcerer, escape an asylum or save a faun from the white witch. Whichever one you choose, be sure for excitement and a good time.
Address: Carlisle, CA3 8AN
Phone: 01228 511 155
5 stimulating activities for couples near Cumbria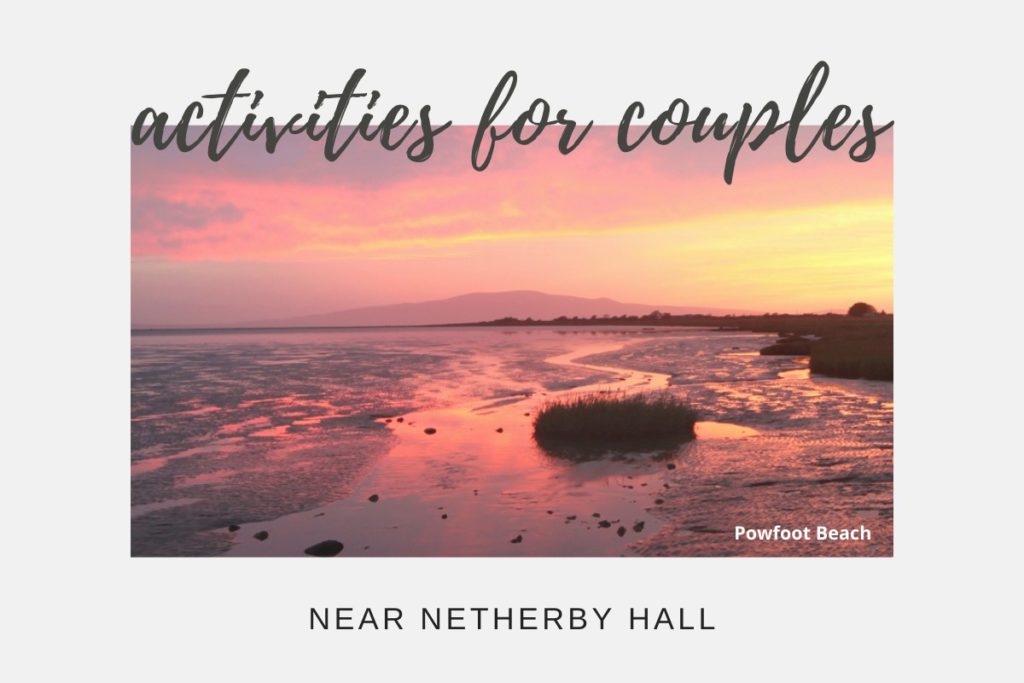 Canonbie walks
If you are looking at exploring the countryside in Cumbria, the area in and around Canonbie village is perfect for long walks around water, farmland and woodland. There are brilliant, designated paths with parking for people to walk along and enjoy the beauty of the Scottish borders.
Address: GD14
Powfoot beach
If you are looking at coming near Cumbria in the warm months, Powfoot beach is an ideal place to relax and unwind. Powfoot beach is a small strip of shingle and sand that allows paddling but not swimming. The local footpath leading up to the beach is convenient and also has plenty of birdlife in the area for those interested in birdwatching.
Address: GD12
Phone: 01461 700441
Gretna gateway
If you are looking for a convenient and modern place to shop for groceries, fashion, technology and more, then Gretna Gateway is the place for you when you visit Cumbria. There are over 40 different stores that range from Adidas to the Fragrance Shop. There is something here for every type of shopper.
Address: Gretna, DG16 5GG
Phone: 01461 339 028
Rickerby Retreat
Rickerby Retreat is a great place for couples looking to relax and enjoy a beautiful spa when they visit Cumbria. Complete with a swimming pool, rooftop terraces, al fresco dining areas, comfortable lounging areas and state-of-the-art spas.
Address: Rickerby, Carlisle, CA3 9AA
Phone: 01228 544 200
Dalemain House
The Historic Gardens and Shop at The Dalemain Estates are one-of-a-kind and something that people from across the UK visit because of its beauty and specialist marmalade. They also provide group tours and a tearoom for those wanting to enjoy homemade marmalade whilst in a magnificent setting.
Address: Penrith, CA11 OHB
Phone: 01768 486 223
Picturesque walking activities in Cumbria
Fortunately, there are a variety of places in and around Cumbria for beautiful countryside walks. Below are the most praised areas and trials for those looking at experiencing nature.
Canonbie
Kielder
Langholm - On this page you can click on maps, or if you prefer paper copies, a packet with the 14 walks can be purchased from the newsagents in Langholm for £5.
Newcastleton
Reiver Trail
Talkin Tarn, Brampton
Exhilarating water activities in Cumbria
There are plenty of places in Cumbria and the surrounding area to take part in water activities like canoeing, kayaking, sailing, fishing and more.
Kielder Water sports
Kielder Water is the largest man-made lake in northern Europe so there are plenty of water-based activities for you to enjoy.
Address: Northumberland, NE48 1BT
Phone: 01434 251 000
Talkin Tarn
Talkin Tarn is home to a beautiful lake and woodland where you can enjoy the picturesque British countryside. You can sail, windsurf, canoe, row, fish and much more at this brilliant location. The is a café on site too, if you wanted to refuel on tea and traybakes.
Address: Brampton, CA8 1HN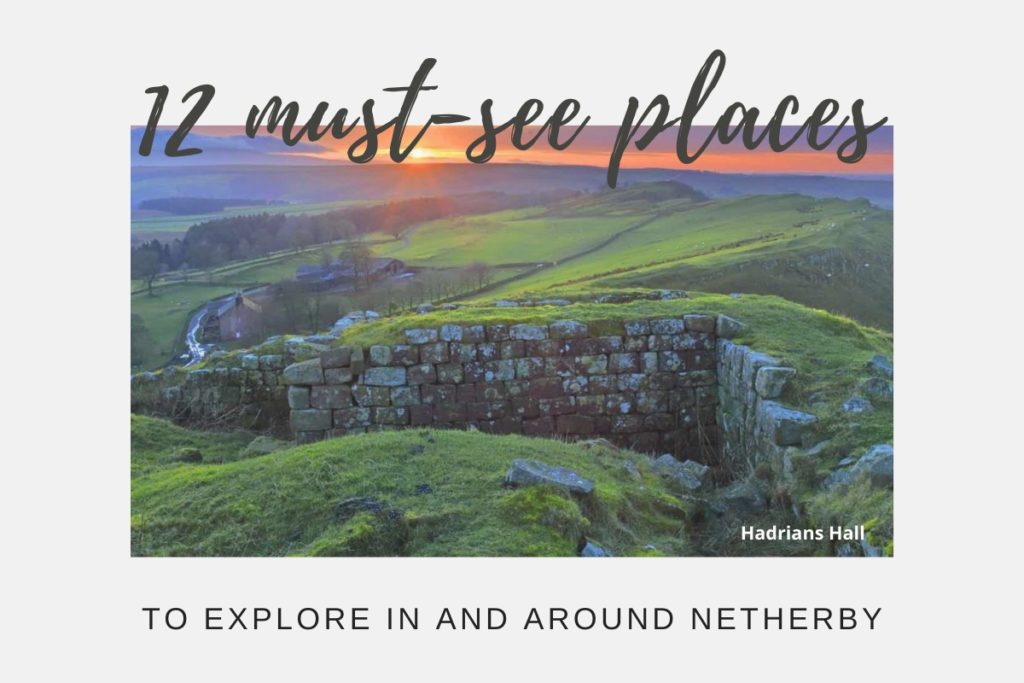 The area around Netherby Hall is steeped in tradition and history. Therefore, there are places all over that have a deep historical influence on the region. Whether you want to visit Hadrian's Wall, built over 2000 years ago or to Gretna Green, famous for its weddings, there is something nearby that you can enjoy.
Carlisle Castle
Standing tall over the city of Carlisle and has so for over 900 years, Carlisle Castle is a fantastic place to explore some of the country's greatest history. There are many medieval rooms to explore, an exhibition showcasing the many turbulent histories of the past and a large medieval wall to walk across to gain a beautiful view of the city.
Address: Carlisle, CA3 8UR
Phone: 01228 591 922
Hadrian's Wall
Stretching for over 73 miles from East to West, Hadrian's Wall was built almost over 2000 years ago by the Romans. Now it stands as a reminder of history and as a UNESCO World Heritage Site. It is surrounded by beautiful countryside which helps add to the experience of walking alongside it.
Phone: 03703 331 181
Tullie House Museum
The Tullie House Museum and Art Gallery is a glorious place for people to visit. If you are wanting to experience decorative and fine art, natural sciences and human history, the Tullie House Museum is the place for you.
Address: Carlisle, CA3 8UL
Phone: 01228 618 718
Carlisle Cathedral
Located in the centre of Carlisle, so it is easily accessible if you are in Carlisle for the day and as the second smallest ancient cathedral in England, the Carlisle Cathedral is a must-visit when you come to Cumbria.
Address: Carlisle, CA3 8TZ
Phone: 01228 548 151
Solway Aviation Museum
Based at Carlisle Airport, the Solway Aviation Museum shows aircraft and aviation artefacts that display the position of Britain being a world leader in aviation design and innovation. For a nostalgic trip back to the past, visit the Solway Aviation Museum today. The museum has disabled parking, hot & cold refreshments and even a gift shop to purchase memorabilia.
Address: Crosby-on-Eden, CA6 4NW
Phone: 01228 573 823
Gretna Green
Famed for its weddings, Gretna Green is the wedding capital of the UK. Thousands of people flock to Gretna Green to have a wedding, surrounded by the 260-year history of getting married in Gretna Green. Whilst marriage is a heavy influence for visiting Gretna Green, there are also many other activities in the town that are worth trying.
Address: DG16 5EA
Phone: 01461 338 441
Gretna Blacksmiths
The Famous Blacksmiths Shop is situated in the middle of Gretna Green village, which is the world-famous home of the anvil wedding and has been at the centre of runaway love, since the Marriage Act of 1754.
Address: Gretna DG16 5EA
Phone: 01461 336 001
Gilnockie Tower
Gilnockie Tower was built almost 500 years ago and I a prime example of a Scottish Pele Tower. It is a great place to visit and learn about it and Scotland's history.
Address: Dumfriesshire, DG14 0XD
Phone: 01387 371 373
Hermitage Castle
Hermitage Castle is a great place to visit when exploring Southern Scotland as it is surrounded by beauty and local wildlife, including wildflowers and nesting ospreys.
Address: Hawick, TD9 0LU
Phone: 01387 376 222
Lanercost Priory
Lanercost Priory is a fantastic place to visit as it offers history and beauty for all visitors. Furthermore, it is very close to Hadrian's Wall so you can visit both attractions in one day if needed.
Address: Brampton, CA8 2HQ
Phone: 03703 331 181
Museum of Military Life
If you would like to learn more about military life, then this is the place for you. The Museum of Military Life provides information, uniforms, weapons, medals and silver dating from 1702.
Address: Carlisle CA3 8UR
Phone: 01228 532 774
The Devil's Porridge Museum
The Devil's Porridge Museum is a 5-star museum with fantastic facilities and voted the number one thing to do in Galloway and Dumfries on TripAdvisor. It showcases a variety of information about the history of WW1, WW1 and the Cold War.
Address: Dumfries and Galloway, DG12 6TF
Phone: 01461 700021
Awe-inspiring places for nature lovers in Cumbria
Cumbria and the lake district are some of the most famous places in the UK for enjoying pure nature, unaffected by humanity. Would you rather go on a long scenic walk or visit the beach? Below are some suggestions that cater to your nature exploring needs.
Kielder Observatory
The Kielder Observatory is one of the best places in the UK to visit to witness the sky. It is surrounded by some of the darkest skies in the world which are host to some of the best astrological views in the world. Not only is the observatory great for star views, but there is also a plethora of flora and fauna nearby which attracts many wildlife fanatics.
Address: Kielder, NE48 1ER
Phone: 01912 655 510
Watchtree Nature Reserve
The Watchtree Nature Reserve is a 205-acre nature reserve located just 6 miles south-west of Carlisle. It is home to meadows, woodland, hedgerows, wetland and scrub which are host to a huge variety of animal species.
Address: Carlisle, CA5 6NL
Book an apartment
Book online today with no booking fee.
Seasonal rates apply.


"We spent a delightful evening and night here on our way to Scotland. Our room was clean and comfortable with all mod cons and a few lovely extras like fresh biscuits. Mattresses were sublime and bedding was top quality. We had a good evening..." [...]